It is the end of February and most CSA's will start in a couple months. CSA stands for Community Supported Agriculture and it connects growers of produce and animal farmers with local consumers. You sign up by choosing a "share" which could be one box of produce or a bag with herbs and vegetables. Some CSA's raise animals and will include chicken, pork or beef meat in your share. Most CSA's offer a variety of choices to accommodate everything from a single household to a large family. Once a week, you will either get a delivery or pick up your share of fresh and local food.
As an online marketer and consultant of small businesses, I am always thinking ahead: "How can I improve an idea or broaden the reach with a little twist?"
Today I opened my sketch book of ideas and came across the page titled "corporate farming". I know, that sound kind of misleading and quite the opposite of community supported agriculture. Most corporate farms will ship their goods across the country and days may have passed before it reaches your table. You are disconnected from the source and will have to rely on labels such as "organic", "non-gmo" or something else. Supporting a local farm or market garden means that you can visit the operation for yourself and ask all the questions you would like answered. This is what Joel Salatin describes as "beyond organic" – Once you take an interest in your food, the stuff you eat, a lot of other things will fall in place.
Google offers a lot of different perks for their employees. Free rides, fitness and a lot of other stuff. The "best" bonus employees claim is the free and fresh food for breakfast, lunch and even dinner.
As a small business you can not compete with companies like google. But if corporations do so much to offer benefits that go beyond monetary compensation, maybe there is a way for your small business to do something similar.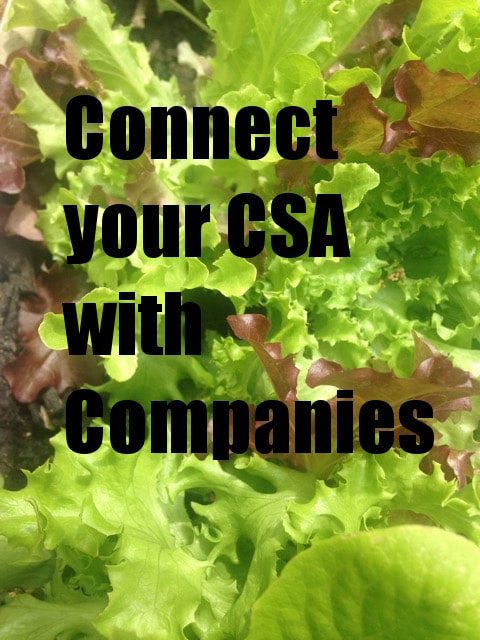 Small Businesses should sign up all their staff for CSA
You probably know already where I am going with this. Wouldn't it be mutually beneficial if CSA's worked directly with companies? Here is a list that explains why I think it would be a win for the CSA, a win for the company and a win for the employees.
Signing up one company with 5 – 100 employees will be less work for your CSA, reducing customer (member) acquisition costs.
Giving employees fresh produce and meat is a great way to add benefits and make for a better work atmosphere.
Eating healthy starts with the ingredients. Wouldn't you agree that eating fresh keeps you healthier? I will not make claims that relate to less sick leave. (Although google might have analyzed that internally – please let me know if you know more)
Reaching the entire staff of one company will touch their peers as well, thereby multiplying your reach.
Taking part in local businesses and supporting each other will make for a great story in your social media feed.
Since all employees are at the workplace already, it reduces the emissions and energy that goes into delivery. All those people do not have to go to the farm individually or vice versa – the delivery truck does not have to go to all those houses anymore. Once implemented, the company might be even willing to serve as pick-up station for other CSA members that do not work at the company, but live nearby, widening the impact.
These are just 6 really good reasons, why businesses should sign up for CSA and why CSA's should market towards workplaces. I bet there is even more.
If you are operating a CSA – let me know if you think this is a viable idea. If you are in a position to get your employees signed up for a CSA – let me know how it worked out for you.
Please leave a comment if you have some input or get in contact if you would like help with your online marketing.
CSA Marketing Blueprint
After initially publishing this article I received valuable feedback from CSA operators. This contributed to the creation of a blueprint that CSA's can utilize to win companies as their members. The blueprint is currently 5 pages that give you step-by-step instructions on how to get started.
Fill in your email and you will be sent the blueprint free of charge. Once I receive further feedback the blueprint will be updated and sent out to you again. Over the course of the 2017 growing season I am going to gather feedback and incorporate it into the blueprint. Everybody can contribute to the success  by sharing experiences.
Your subscription will be used for the sole purpose of delivering the blueprint and nothing else. If you like to receive my personal updates, you need to sign up with the other forms on my website.